Kitchen Design trends for 2018
Recently, home remodeling and design platform Houzz released their results from a survey of 1,734 U.S. homeowners about their recent or planned kitchen renovation projects. Highest on the list of design trends? Things to help you declutter your space: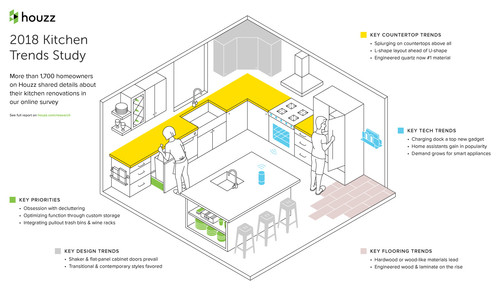 When it comes to flooring choices in the kitchen:
One in two homeowners are choosing wood or wood-like materials (53% combined), among those updating their flooring (73%).
While natural hardwood continues to be the most popular (29%), its popularity is on a decline (34%, 31% and 29% percent in
2015-16, 2016-17, and 2017-18 projects, respectively).
In contrast, wood-like flooring such as engineered wood or laminate are on the rise (19%, 21% and 24% percent, respectively).