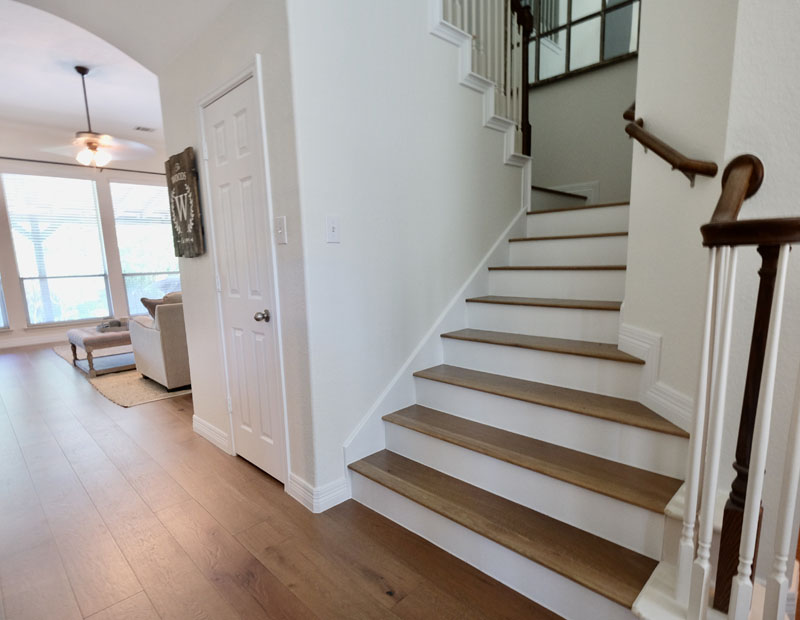 Laurie & Payton
We can't be more thrilled with the new flooring. From start to finish, our expectations are beyond being met.
The flooring product itself is simply gorgeous. The installation in impeccable!
The crew worked quickly and efficiently, while demonstrating the utmost skill in craftsmanship. They were also polite, pleasant, and even kind of fun to be around and watch them work.
Thank you again, we are some very happy customers. We would recommend River City Flooring to anyone.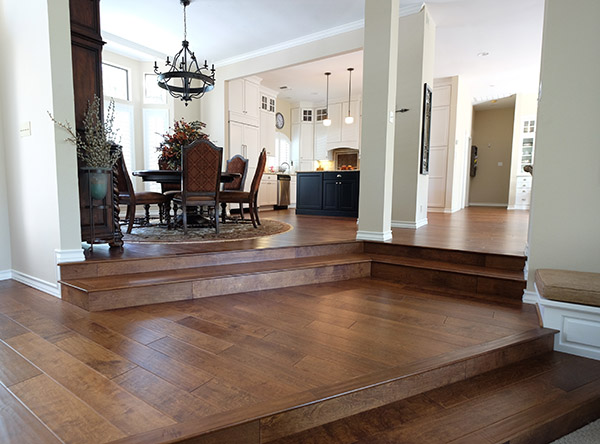 Susan & Mike
What a pleasant experience this has been dealing with you and your River City Flooring team!
Thank you for your excellent product, exceptional workers and caring attitude. It is refreshing in a world today that doesn't take the time to value this way of going business!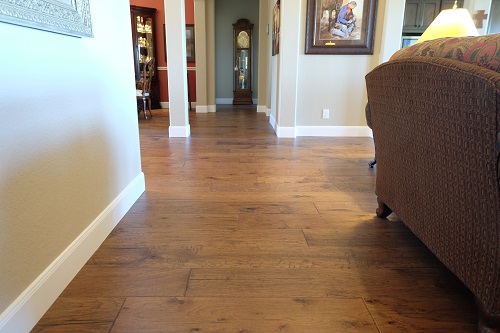 Leah
Through the years I've remodeled several homes. I have never given a 100% satisfied to any business or contractor. River City Flooring is the first. Damon was crazy informative and professional. Oscar and his crew were beyond outstanding. Approximately 1700 sq ft of old carpet and wood flooring removed and engineered wood flooring installed with new shoe molding in 2.5 days. Absolute perfection!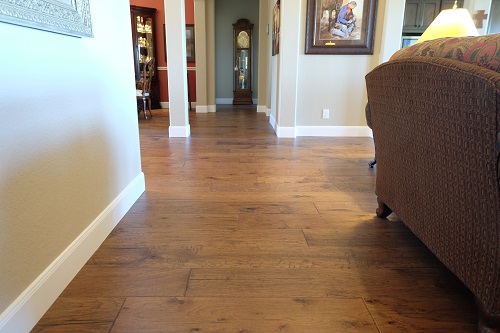 Emily & Matt
Dear River City Flooring,
Matt & I would like to express our sincerest gratitude to you for responding promptly and personally to our concerns. The personal time you took to remedy the matter of the baseboards did not go unnoticed.
Once again, you all exceeded expectations of quality customer service. We only hoped the feedback we offered would improve the quality of the gentlemen's work, yet you showed respect for our time and efforts by issuing a partial refund for the trim work. For that surprise gesture, Matt and I were blown away. It was not necessary, unexpected, and above all, wholeheartedly appreciated. Thank you again River City Flooring! Once again, the end result is garnering endless compliments!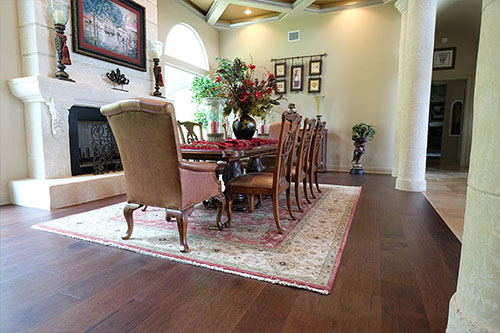 Judy
River City Flooring,
Your expertise was invaluable and the floors are beautiful. Adrian and the crew were great too.
Thank you!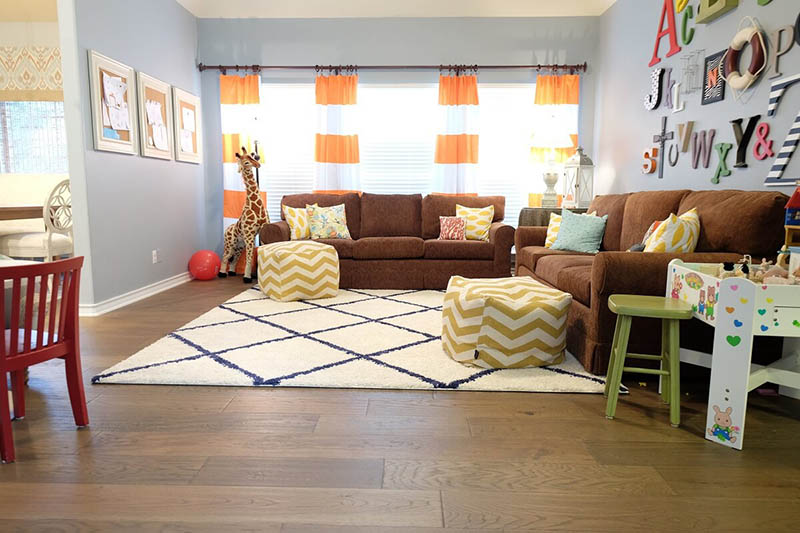 Mary G. of Austin
After purchasing a new home we realized the flooring had to go. Kyle came out quickly and gave us a detailed quote that was reasonable and met our fairly constrained timeline. He even dropped by a full box of the wood stock we were consider just so we could be 100% the flooring was right for us.
The crew was top notch and did a perfect install well ahead of schedule. Adrian was very professional and put a ton of care into the selection and placement of each wood plank. When I saw the finished product I was moved to tears–it is gorgeous!
I could not say enough about these guys. I would highly recommend their services to anyone.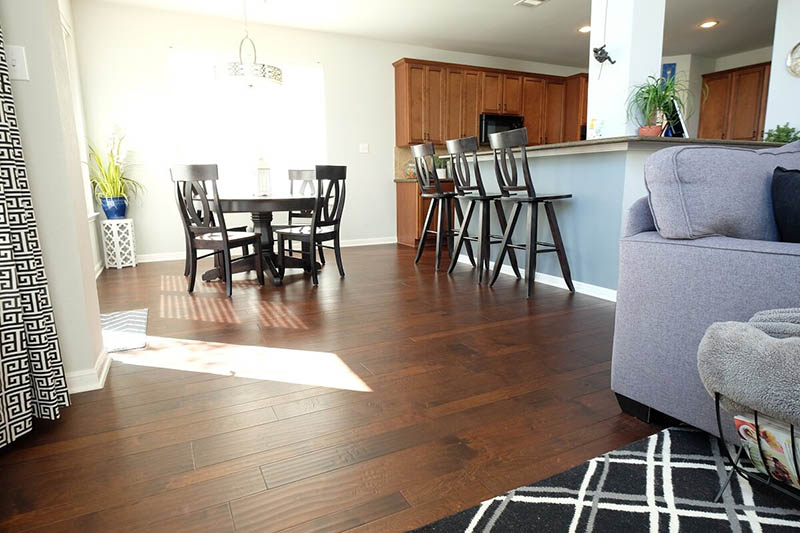 Ashley of San Antonio
River City Flooring recently installed THE most gorgeous wood floors in our home. We not only loved the floors, but also that the service matched the quality of the product we received. Both the man who sold us the floors (Damon) and the crew who did the installation were always on time, respectful, kind, and we were greatly impressed with the quality of the work provided. We have young children and had to be home while the floors were being installed. I was impressed with their consideration of us being home, as well as kindness shown to my children. I would HIGHLY HIGHLY HIGHLY recommend River City Flooring.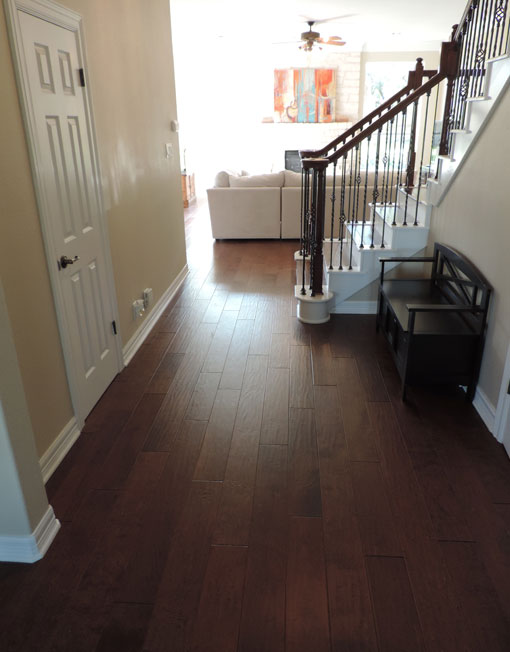 Frank of San Antonio
We just had almost 2000 sq ft hardwood floors replaced by River City Flooring. They did an absolutely fantastic job at an amazing price. A four man team arrived on time and worked efficiently and fast. Adrian, the team leader, was fabulous and didn't stop working until the job was perfect. Matt, the owner, was honest and they don't take a penny until the job is done and the customer is 100% satisfied. The new floors transformed our house. We are very glad we went with River City Flooring and would strongly recommend you get an estimate and talk to Matt before going with any other company.
Highly recommend River City Flooring. Extremely professional and highest quality. No payment accepted until job completed and customer 100% satisfied. –Frank and Shanon M.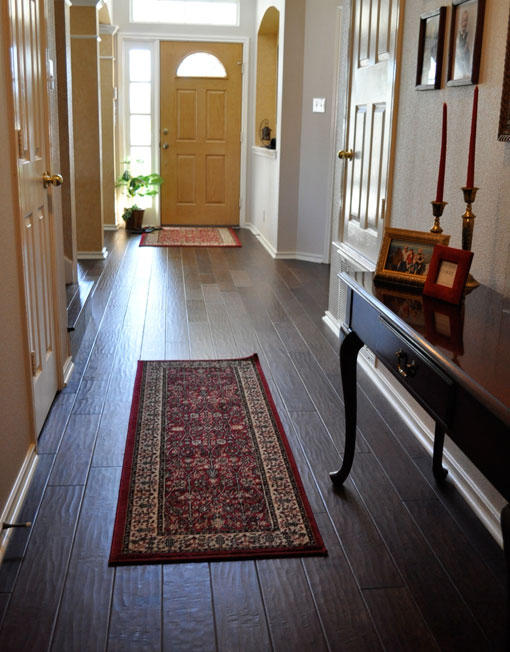 Nancy of Austin
It was great! I had 3 contractors come and give me bids, and Kyle's bid was the best as they charged the same per square foot for installation, but they didn't nickel and dime you for everything else PLUS they moved the furniture (I just had to remove all breakables) where the other contractors told me I had to move everything. The morning the work was to begin, I got a call from Kyle telling me the crew was on their way, and were here within 30 minutes and got right down to business. The crew was great with moving furniture, making sure not to damage walls or the furniture. With this type of work, dust and dirt is to be expected, but they made sure they cleaned up the living areas before they left the first night and cleaned up when they finished the job the next day. I am really pleased with how the flooring looks and the baseboards really make everything "pop". If you are redoing your floors and want a company that gives you a great value for your dollar, along with doing great work, the call Kyle. I know I'll keep the name and phone # and call them if I have any flooring needs in the future.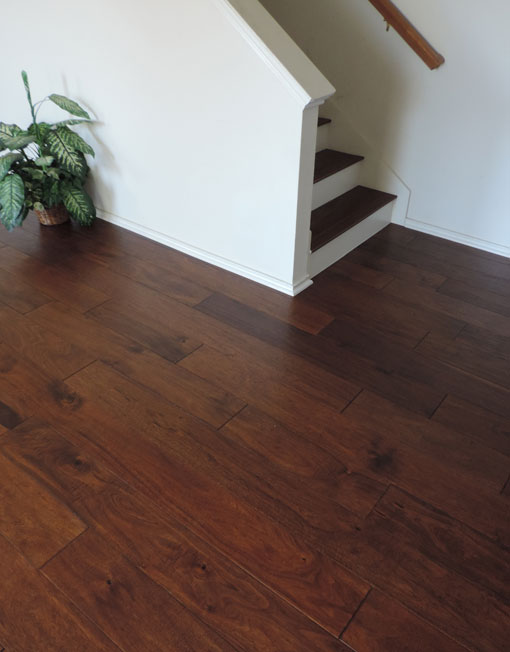 Ginger of San Antonio
They sold me beautiful Caramel Acacia engineered hardwood. Then came to the house and installed it within the week. My floors are beautiful. I couldn't have imagined how easy the whole process was going to be. I had shopped everywhere in Austin and San Antonio for the same quality floors and I found nothing that compared to the price and quality. They have a quaint showroom in San Antonio I visited so I could see the samples installed. Kyle was very helpful and knowledgeable about their product. The most impressive thing was the fact that I didn't pay a dime until the job was done.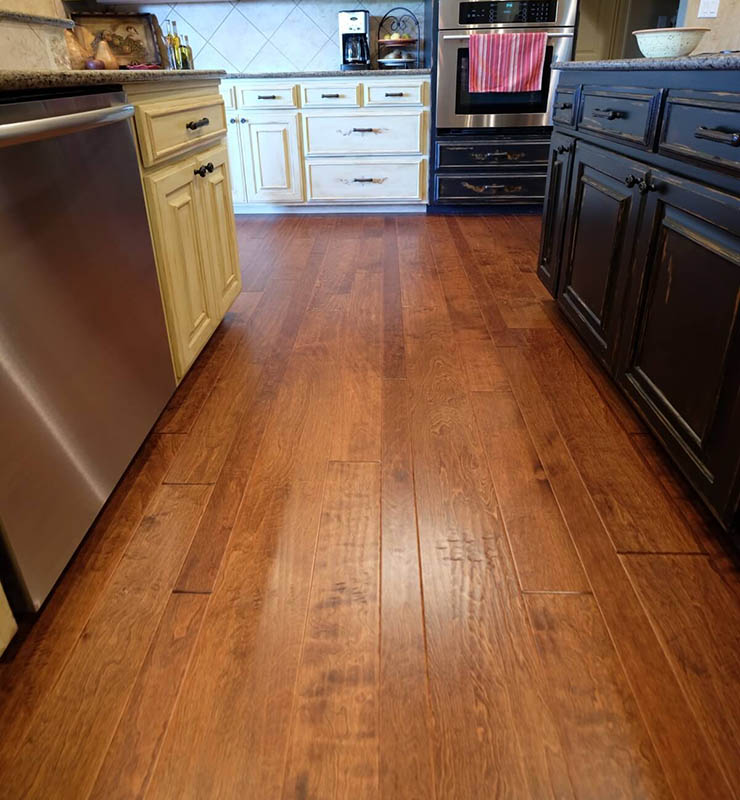 Jonathan of Fair Oaks
Matt and the guys at River City Flooring installed over 3000 square foot of flooring in my home. From the beginning, their team was courteous, professional and straightforward. I was very impressed when during the initial consultation Matt finished filling the numbers into his spreadsheet and proceeded to turn his computer around to let me look. This type of transparency is rare and did not occur during any other bid for my project. Even more impressive was that River City performed the installation within the budget and on time. They even worked with the specific needs of my project to ensure that the installation met my expectations. The floor is beautiful and I do not hesitate to recommend River City. If you are looking for a quality product, a fair price, and responsive service from start to finish, consider River City Flooring.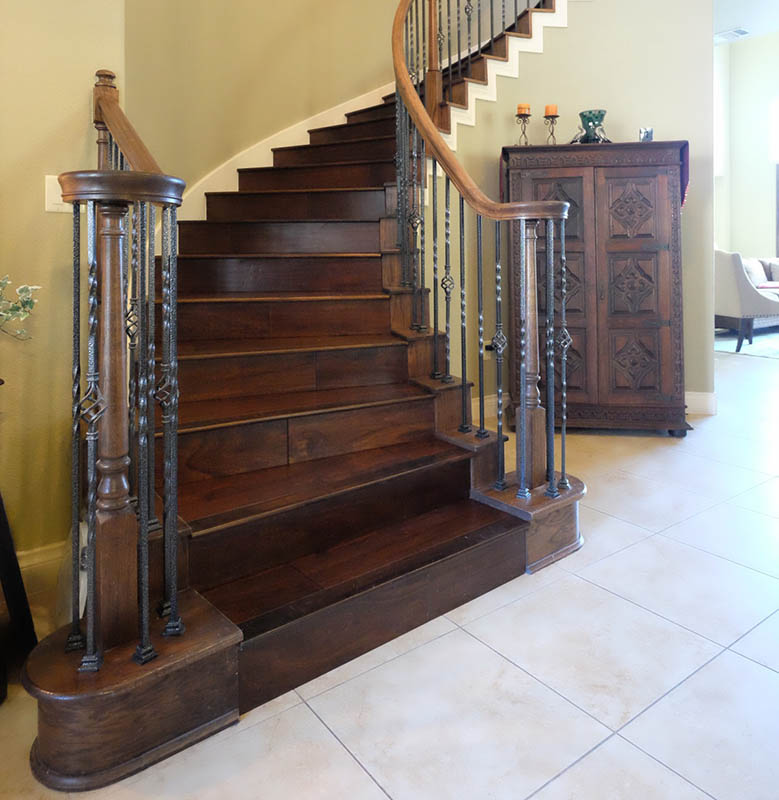 Phil and Nelda of Austin
Thanks to Kyle and the installers of our new wood floors!!! Their smiling faces and knowledge made our wood flooring project enjoyable. Glad we found RCF at the show in Austin. I would definitely recommend you to anyone wanting flooring. I am impressed that all calls were answered or returned in a timely manner. p.s. Pay when finished and satisfied was a big seller on my part. That means you have a good product.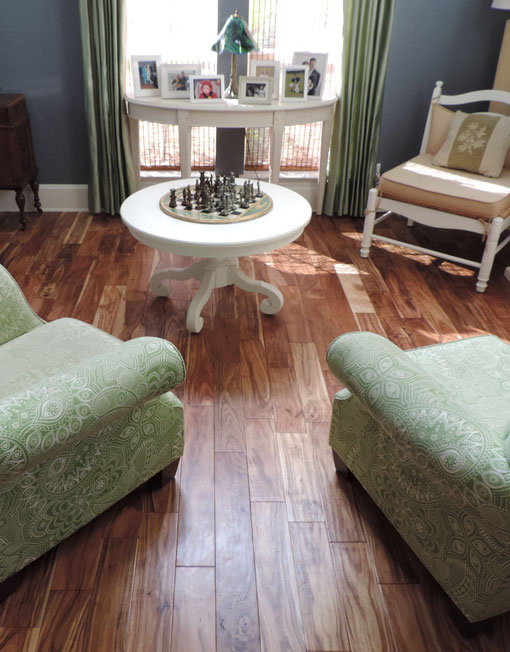 Rebecca of San Antonio
The floors have been amazingly durable despite having kids running around on them being a bit rough. The stairs look good enough to put in a home improvement catalog. We are so pleased with this experience and hardly recognize our house!
Sandi and Kyle of San Antonio
Thank you for a wonderful experience on our hardwood installation. Your crew was truly amazing! They worked hard each day, and they were so courteous. They worked quickly, but they didn't cut corners. The quality of the install is exceptional. I'm thankful that my kids witnessed the crew's work ethic and quality of work. Your company will do well because of your professionalism and your honest, quality work.It has been a pleasure working with you, and I will be glad to give you references. I will even open up our home for people to come see your work firsthand.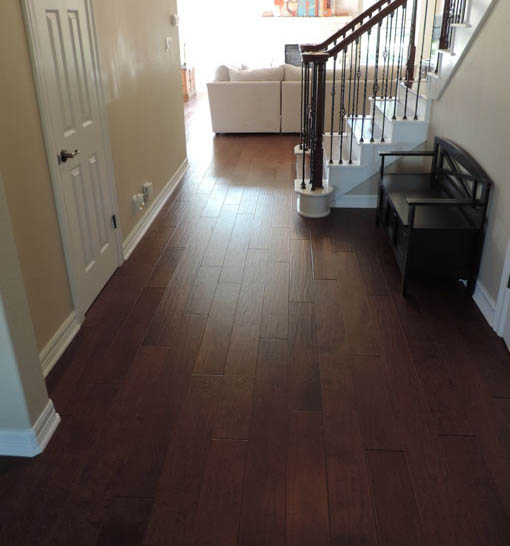 Sharon of San Antonio
The floors are just beautiful – thank you, thank you, thank you! Your install team was very professional , great installers and even clean up! Kudos to them as well!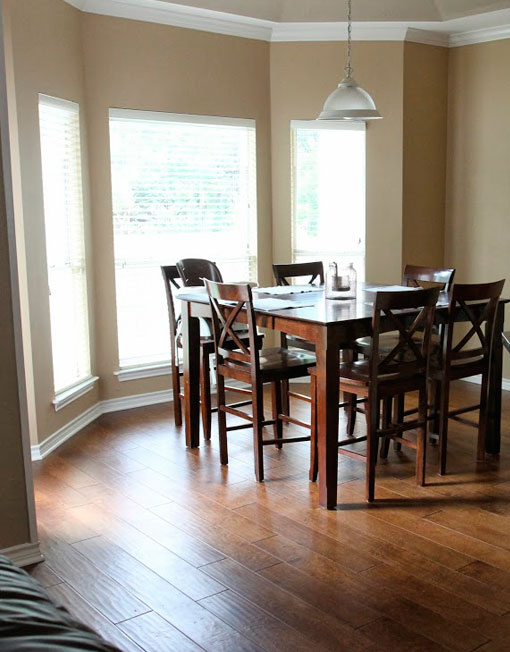 Robert of Lakeway
We had a great experience with this company. Kyle came over several months ago and gave us an estimate to install hardwood floors. He brought lots of samples and assisted us in what would be best for our house. When we were ready, he came back over and we reassessed what areas we wanted hardwood flooring and also some areas that we needed new tile. He was able to get us on the schedule that same week. [Read more on Angie's List]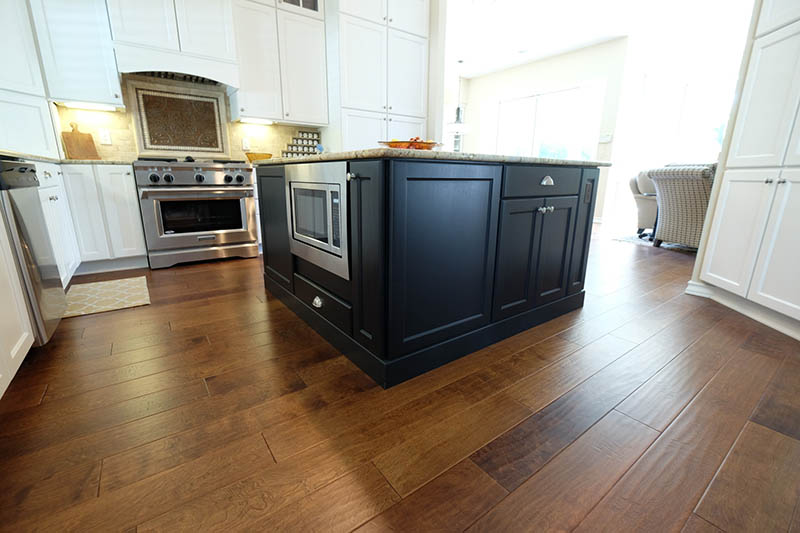 Julie of Austin
We had about 2000 sq. ft. of carpet and tile removed and Honey Birch hardwood installed. Austin Dustless Tile Removal Co. did the demolition in 1 day with no noticeable dust in the air. The next day River City Flooring started installing the hardwood. All was done in 2 days except for the staircase and upstairs hallway and trim which was completed on the third day. The next morning the cleaning crew was finished by noon. 2000 sq. ft. installed in 4 days! Unbelievable! It was amazing how everything was done so efficiently and on schedule. Kyle with River City was so easy to work with every step of the way. We love our "NEW" home.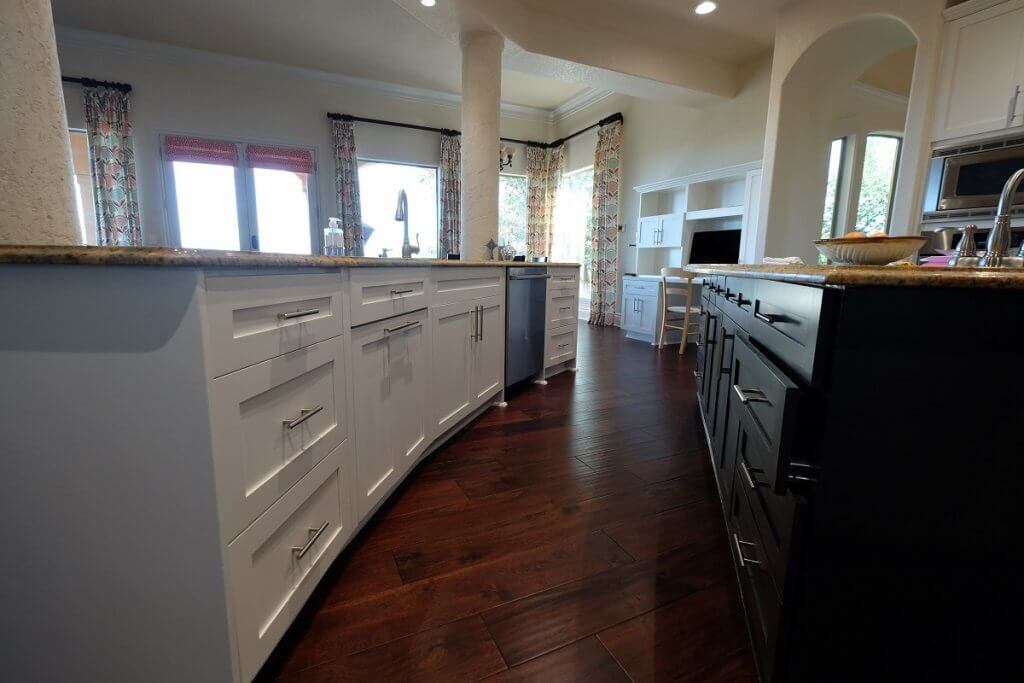 Mark & Pam
To everyone at River City Flooring: GREAT JOB!!
We might need to go buy another house so we can do business with you again.