Damon took a somewhat unconventional path to the hardwoods flooring  industry. After receiving a Bachelor's degree in Accounting from BYU,  he worked in the energy industry for 10 years. During that time Damon received an MBA from the University of Texas – Austin and worked in finance and commodities before he and Matt finally crossed paths and formed RCF Hardwoods.
Damon credits his financial background with driving RCF's focus on sourcing high quality flooring and hardwoods at competitive prices. By reducing overhead and purchasing inventory in large volumes, RCF has been able  to negotiate lower material prices and pass the savings onto their customers.
His commitment to maintaining that advantage and delivering  consistent quality to each and every customer has kept RCF one step  ahead in a very competitive industry. His customers can rest assured  that if there is a way to save money without compromising quality or  service, Damon will find it.
Damon and his wife Emily are the parents of four great kids. He enjoys  reading, college football, backpacking, and spending time with friends and family.
River City Flooring, a premier provider and installer of engineered hardwoods in San Antonio, was founded on the belief that when you provide a premium product and great service at a wholesale price, your clients will become your sales team. From our humble beginnings warehousing in an airplane hangar, we have grown to become the area's leading engineered hardwoods provider. Most importantly, our growth has come primarily from word-of-mouth and client referrals.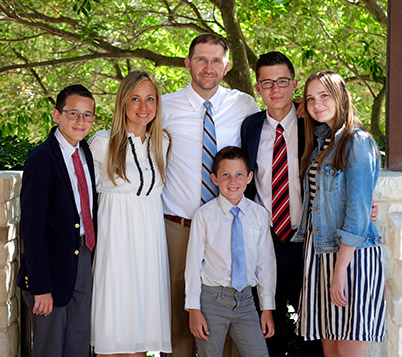 River City Flooring Team: